Player testimonials
"Win A Day is a unique, one of a kind casino and I can say from my own experience, you guys are personable and thoughtful to your players. Thanks to your whole team, you guys and gals make a great team together and a great online gaming experience come true! Win A Day is an honest online gaming site that I truly love."
"I truly love this site and the best part is NO DOWNLOAD!! That and the fact that you have the most unique games is what causes me to continue to play. In addition to really enjoying the games, you have wonderful support staff. It's a lot of fun, good job!"
"I have played at many online casinos and I would just like to say that Win A Day is the BEST casino that I have played at. Their games are all one of a kind you won't find them anywhere else. The customer service support is fantastic. If you haven't played at Win A Day I suggest you do."
"The games at Win A Day are so different to other casinos, they have so many unique features that really make them stand out! I will return to play here over and over again. When you combine the wonderful games, superior customer support and terrific daily promotions it's a no brainer. Win A Day is a winner for me!"
How to Have the Most Fun when Playing Slot Games
Posted on August 20, 2014
Some slot games require very little strategy, and the odds are not exactly in the favor of the player. This could lead to discouragement for some people if they keep losing. Therefore, Win A Day provides players with advice on how to make the most of online slot machine gambling.
Betting for Money Should be Enjoyable
We want people to win every day, thus the name of our site. However, we also want people to play for fun first and for money second. After all gambling should bring enjoyment to a player, not cause financial hardship. We make it easy our customers to have a great time using our site, and we provide plenty of opportunities to receive huge payouts. At the same time, we strongly urge (most of) our gamers not to quite their day jobs to be professional gamblers.
Don't Take Slot Games Too Seriously
Yes, we have tournaments and incentives to keep people playing. Furthermore, we offer quite a variety of virtual machine platforms with different themes that offer substantial payouts. Additionally, we find that it's fun to figure out some strategies to try to increase odds of cashing out on a play.
However, we don't want this activity to consume people. Anyone who starts losing their temper and becoming overly anxious with gaining back money lost might need to seek budgeting help, or at the very least stop playing for a few hours or days.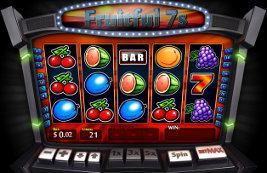 Players should participate for a while, then take a break from the computer. Otherwise, they could fall prey to the temptation to overspend. Anyone who becomes obsessed with winning so much that it costs them more than they can afford to lose -- their home, wife or children -- needs to seek counseling.
Play Responsibly to Gain the Most Out of Each Session
Anyone who can play responsibly is welcome to keep trying out new virtual machines. For instance, we have "Alice in Wonderland", the "Wild West" and "Fruitful 7s". Otherwise, try "Wheeler Deeler", "Win a Fortune", or "Jackpot Jinny".
Anyone can play our machines regardless of budget. After all, we even have penny slot machines, and we provide many different choices that help prolong sessions for as long as possible. We even have bonuses that often keep online gamers active for quite a while longer than they expected. We have countless options that keep people entertained every day that don't dry up all financial resources.
For the participants that manage their money well, this sport can provide the kind of release someone needs at the end of a long-hard week. However, some people might want to do more than just play slot games. If so, we highly recommend our video poker casino games.