Player testimonials
"I enjoy all of your games, it is difficult to to pick ONE favorite! I get bored quickly with other casinos but at Win A Day I just want to keep playing - its what a casino should be! As if that's not enough, the frequent bonuses, contests, tournaments, and other promotions keep me coming back to be a part of all the FUN! Win A Day, thank you!"
"I have played at many online casinos and I would just like to say that Win A Day is the BEST casino that I have played at. Their games are all one of a kind you won't find them anywhere else. The customer service support is fantastic. If you haven't played at Win A Day I suggest you do."
"I truly love this site and the best part is NO DOWNLOAD!! That and the fact that you have the most unique games is what causes me to continue to play. In addition to really enjoying the games, you have wonderful support staff. It's a lot of fun, good job!"
"Win A Day is a unique, one of a kind casino and I can say from my own experience, you guys are personable and thoughtful to your players. Thanks to your whole team, you guys and gals make a great team together and a great online gaming experience come true! Win A Day is an honest online gaming site that I truly love."
Types of Slot Games
Posted on October 10, 2014
Slot games have a long history. What started as a simple game matching up three or five numbers in a single line has developed into multiple types of games. Originally slot machine games were created from mechanical rotating drums. However, today they are run electronically with technology that allows them to be more complex. Games are designed around a variety of popular themes including television shows, movies and animation. In addition, games vary in how they payout and method of matching symbols.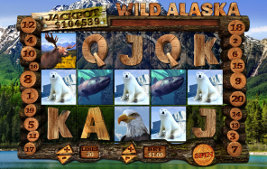 Types of Games
Games are usually set up in casinos by the type of tender they take or the amount of money you need to pay to play them. This situation is common on a virtual instant play casino as well. If you look for slot machine games online, you will find them grouped together by theme, amount of money or type of play. Before you play the game for real money, make sure you read the instructions on the machine to familiarize yourself with all the ways to win.
Continuous Slots
A Continuous Slots game is one that continuously adds a percentage of money continuously to the prize pool. As the stakes rise, so does the prize.
Multiplier Machine
The Multiplier Machine slots pays out for specific combinations of symbols and pays more if you put in more money. You have the option to play the amount of money you wish, and are not penalized if you play a smaller amount.
Numerous Paylines
The name Numerous Paylines says it all. These games allow the player to win on more than one line of play at a time. Your pay in determines which lines of play pay out.
Reward Multiplier
These slot games are similar to the Multiplier Machine games as they pay on combinations of symbols with the amount of winnings dependent on how much you pay in. However, these games offer additional rewards if you play the highest level of money and win. The player can decide if the reward is worth the risk.
Purchase-a-Game
The Purchase-a-Game slot game offers a big reward, but only if you pay in the big money. Depending on how much you pay in, you may be only able to win on the lower paying symbols. Each symbol level is added on the more you pay in, therefore you can only win the big jackpot if you play at the highest level.
Win A Day Casino offers customers the chance to win big when playing online slot games for real money. They have a wide variety of games to choose from and plenty of fun themes to the games. With all of the games, players can read the instructions upfront to learn how to play, and then try them out at any level they desire. If you are just learning how to play, you can start with a very small amount of money so you don't take a large risk. Playing slots should be fun, and there are tutorials on the site to help explain the games.