Player testimonials
"I started at Win A Day's sister site, Slotland, over 10 years ago, and I did not think that I would find an online casino that I liked better...that was until I played a couple of times at Win A Day! Playing here is so much fun, I have not been to my favorite land casino in over a year! That, is a loyal player!"
"Win A Day is a unique, one of a kind casino and I can say from my own experience, you guys are personable and thoughtful to your players. Thanks to your whole team, you guys and gals make a great team together and a great online gaming experience come true! Win A Day is an honest online gaming site that I truly love."
"The games at Win A Day are so different to other casinos, they have so many unique features that really make them stand out! I will return to play here over and over again. When you combine the wonderful games, superior customer support and terrific daily promotions it's a no brainer. Win A Day is a winner for me!"
"Win A Day is the place to play, come one come all. A place of fun and games galore! Great customer service, deposit bonuses and surprises. It's is the best casino and definitely worth your time. Thanks Win A Day for all you do, I will always support you."
Understanding How Slot Machine Games Work (Part 1)
Posted on February 28, 2014
Here at Win A Day Online Casino, our slot machine games our some of the most enjoyed and respected in the industry. For gambling players new and old, no other instant play casino offers more opportunities for enjoyment and the possibility to win really huge money online. Join us now for part one of our advice on playing these fantastic games.
Slot Machine Strategy
Slot machines are the most popular for of playing throughout all casinos. Aside from being the most popular, these machines also generate huge profits for casinos, which often offer better odds for the house than traditional table games. On the other hand, video poker has a bit less of an edge for the house.
Most of slot machine games player strategies are misinformed or based upon rumor and speculation. One major myth is that machine may somehow become hotter if they haven't struck the jackpot in a long time; the reality is that every spin and coin played on this game, players have equal odds to win, whether the game has been paying out frequently or not; these machines atre governed by the basic principle of probability, similar to flipping coins. Likewise, guides that hope to help players beat slot machines are quite simply taking your money. It is best to avoid these types of scams.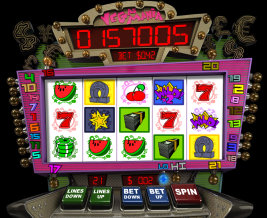 Progressive Winning
The best time to play slot machine games is taking advantage of progressive slot jackpots and all available bonuses while playing, which can make prospective wins all the higher. Taking advantage of machines that are primed with a higher paying bonus spin may mean the difference between a big win and going home empty handed. In the majority of slot machine games, we highly recommend betting the highest possible amount of tokens per spin. The reason for this strategy is that jackpots will typically change by large amounts when betting single coins versus the highest possible count. The majority of progressive machines will only hit the jackpot when the maximum bet is applied on a given spin.
Betting the highest amount of coins is only recommended when the payout increases. Betting more may seem like a good idea, but the hit to your bankroll is only worth it when chasing a progressive machine. High dollar slots typically produce better payouts than lower end machines, so by moving from pennies to quarters, the adjustment of your odds may very well make quite the difference instead of simply pumping coins into a cheaper game. Understanding this, the best way to play is with the highest dollar machine that you can reasonably afford.
Slot machine games typically label their machines with a payout table that that will inform players of their odds on any given day of play.