Player testimonials
"Every now and then you come across a video slot that makes you say "WOW". The release of Fluffy Paws, has done just that for me. I just love those bonus rounds and the fantastic graphics and sounds."
"Straight up guys, you nailed it, this casino is so new and different and so much fun. The odds are so fair, bonuses and games are too great not too invest in them. I've been gambling online for a long time and played in many casinos but have never had this much fun anywhere else. I highly recommend it!"
"My loyalty to Win A Day for online play is due to the casino itself. They are the most generous online casino I've played at, the games are so much fun, bonuses are ample and the staff are just fantastic. Thanks Win A Day."
"I played on less than $20 the other day and this lasted me ALL day! My butt was tired from playing so long! I can't say that I have ever had that experience before. It was really fun. I LOVE your site. You offer the most unique gaming experience!"
How To Play Slot Games For Real Money
Posted on December 18, 2014
The internet is one of the greatest inventions and now, instead of going to a casino where you may have to wait your turn at a slot machine, you can play online. Learning how to play slot games for real money is very easy, especially if you choose the right casino to play at.
You always want to make sure you find a casino that offers an array of casino games for you to play. At Win A Day Casino, you can take advantage of 50+ unique games that you won't be able to find anywhere else. Such games include:
Pacific Victory
Monster Trucks
Dream Catcher
Fair Tycoon
Birthday Bash
With so many fun no download games to choose from, you know that you won't grow tired of the variety that is presented to you. You can simply choose a game and begin playing. As long as you have money in your account, you can play the games that are available as many times as you like.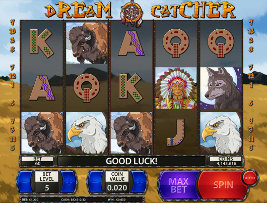 Win A Day Casino's variety offers various paylines as well as minimums for each of the slot games. It's important to know how to play once you have loaded money into your account.
You will choose a game that you want to play. The screen will tell you everything that you need to know, including minimum and maximum bet. If you play a slot game where there are seven paylines, you can choose to play as many as all seven. Playing all is in your best interest because it increases the chances you can win per spin.
You determine how much you want to wager per spin. Many of the slot games will allow you to wager as low as $0.02 per payline, per spin. If you want to play all seven paylines, you are only risking $0.14 per spin. Should you wish to wager more, you can also hit a max bet, which will allow you to play the maximum amount without having to press any other buttons.
Once you have determined what you want to risk per spin, there are other features that you can take advantage of. Win A Day Casino doesn't surprise you with the games. You find out how many paylines are present in the games before clicking and you learn of any bonus rounds that may be present. From there, you can also choose to use the auto spin feature. This will allow you to continue spinning the reels without having to press another button.
Playing slot games for real money is easier than you might think. Win A Day has paid off large jackpots as a result of people playing with real money and when you choose a casino, you want to make sure you have access to games that you want to play.