Player testimonials
The support agents have an exceptional talent, always cheerful and genuine, by far the top representatives in the online business. They are the best when it comes to reminding players of Promotional and Bonus Specials!
Out of all the casinos I have played at, having played for many, many years now, Winaday is by far the best. And has the BEST of everything! The games are top notch and have great payouts.
I have been playing Winaday for a long time and you are my favorite. I have basically stopped playing most of my other casinos and WinADay is the ONE.
Winaday makes a long commute to work fly by! Some of the best games are available to play on my phone.
An Overview of Our Instant Play Casino Table Games Part 2
Welcome back for part two of Win A Day Casino's overview of our instant play casino table games. Our real money online casino has built a reputation around the world for providing one of the best online gambling experiences available to casual and professional players alike. We have a great selection of high-end slot games, penny slots, video poker, and table games. Today we are going to take an in depth look at some more of the exciting table games we have available.
La Roulette
La Roulette is one of our most polished and beautiful instant play casino table games. For those new to this popular casino game, roulette is a famous game, in which players place bets on the table corresponding to numbers 1 through 36 and colors black or red. Once all bets are placed, a large wheel laid down on the table is spun which has numbers and slots that correspond to the numbers and colors available to bet upon the table at the beginning of the game. A small white ball in thrown into the wheel, and whichever slot and number it lands upon is the winner. This video of edition of the casino classic is fully 3D rendered for a very special and realistic experience for players. La Roulette is a unique European spin on this game, because it features five wheels, which means that there are five winning numbers at the end of the roll, versus the usual one. Experienced players will recognize that this gives players much better odds than usual. This is why this is our most popular of our available table games. The soundtrack is a lovely smooth jazz score that heightens greatly the immersion into the classy gambler's enjoyable evening. Whether a first time player or a seasoned casino veteran, this game will appeal to gamblers of all types, and we really recommend this game. Please try it for yourself today and you might just win really big money online!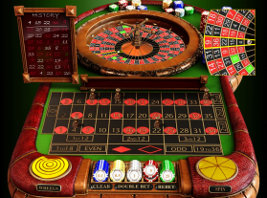 Roulette 5
Roulette 5 is the second of our great instant play casino roulette table games. This variety of the casino classic is a similar rendition of our popular La Roulette game. Like the previous game, "Roulette 5" features the fantastic five wheel structure, which has the landing ball line up with five different numbers per spin and their appropriate colors. Doing the math then, this actually gives players up to 10 times to win per spin. This game has an American style table, feature a unique layout and color scheme, but still offering the same great hyper-realistic table construction and sense of immersion as our European variation. The soundtrack has an alternate variation on the very classy smooth jazz theme of the original. Having two versions of our roulette game gives our happy players the variety that Win A Day Online has come to be known for around the world in our instant play casino. Try it out and find out why we have such a loyal following.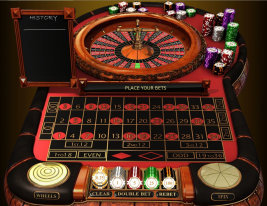 This concludes our two-part review of our very fun real money table games. Next time, we'll take a look into the great penny slots available in our online casino.