Player testimonials
"Win A Day is the place to play, come one come all. A place of fun and games galore! Great customer service, deposit bonuses and surprises. It's is the best casino and definitely worth your time. Thanks Win A Day for all you do, I will always support you."
"I truly love this site and the best part is NO DOWNLOAD!! That and the fact that you have the most unique games is what causes me to continue to play. In addition to really enjoying the games, you have wonderful support staff. It's a lot of fun, good job!"
"I have played at many online casinos and I would just like to say that Win A Day is the BEST casino that I have played at. Their games are all one of a kind you won't find them anywhere else. The customer service support is fantastic. If you haven't played at Win A Day I suggest you do."
"Straight up guys, you nailed it, this casino is so new and different and so much fun. The odds are so fair, bonuses and games are too great not too invest in them. I've been gambling online for a long time and played in many casinos but have never had this much fun anywhere else. I highly recommend it!"
Slot Games Player Tips (Part 1)
Posted on February 25, 2014
Slot games have been around for over one hundred and twenty years for good reason: these games are fun! We have a great selection of online casino games like these here at Win A Day Casino for players to experience.
From a technological perspective, slot machines evolved a lot over the past years. Winning number combinations are randomly decided by advanced and reliable computer programs. You probably know that online Slots use 3, 4, 5 or more circular reels that contain various symbols or numbers adapted to the theme of the game. Players must be necessarily acquainted with the Slot symbols. Selecting the best machine plays a major role in establishing a good strategy. First of all, you have to decide whether you want to play on three reels or four reels. Lining up 3 matching symbols or numbers is obviously much easier than matching up 4.
Getting Started
We advise you to start playing on three reel slot games, especially at the beginning of your gambling experience. Only afterwards, you are free to discover Progressive Slots, which are more entertaining and feature impressive jackpots. This type of Slots gradually increases the value after each spin on a single machine or group of machines. The Jackpots are very motivating and are won by players who bet the maximum number of coins and line-up all the winning symbols on the pay-line.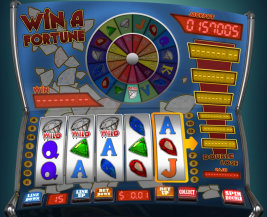 Choose slot games that have double-up symbols on reels. They are usually represented by a circle or a diamond in a circle and inform the player about the doubling of the payoff and that they can replace the symbol with any other on the reel. There are quite few such machines at online casinos. The choice of the right machine is vital for a happy slots game experience. The machines vary in their size, jackpots, symbols, etc. The selection of a machine must include the above mentioned aspects but also the potential of your bankroll.
Manage Risk
Risk less by betting with small numbered coins. In the long term, this will lead to many more games. A slow start may often lead to better satisfaction. If you are looking for huge payouts, progressive slot games offer much higher payouts. Always decide how much you want to play before starting any session or placing any bets.
Budget management is the key to long-term success. Stick to your decision and never exceed the money you can really afford for each session no matter how much you might be tempted. Don't be afraid to chase the highest top jackpots on your favorite slot machines! Slots seem to be the perfect game for players who have a special appetite for surprises. In slots, you never know what to expect of the next spin. As long as you have a strategy to pull from, the luck will surely favor you!