Player testimonials
"I started at Win A Day's sister site, Slotland, over 10 years ago, and I did not think that I would find an online casino that I liked better...that was until I played a couple of times at Win A Day! Playing here is so much fun, I have not been to my favorite land casino in over a year! That, is a loyal player!"
"Win A Day is the place to play, come one come all. A place of fun and games galore! Great customer service, deposit bonuses and surprises. It's is the best casino and definitely worth your time. Thanks Win A Day for all you do, I will always support you."
"I have played at many online casinos and I would just like to say that Win A Day is the BEST casino that I have played at. Their games are all one of a kind you won't find them anywhere else. The customer service support is fantastic. If you haven't played at Win A Day I suggest you do."
"Straight up guys, you nailed it, this casino is so new and different and so much fun. The odds are so fair, bonuses and games are too great not too invest in them. I've been gambling online for a long time and played in many casinos but have never had this much fun anywhere else. I highly recommend it!"
A Full Review of Our Slot Games Part Two
Posted on October 2, 2013
Welcome back for part two of our full review of slot games offered here at Win A Day Casino. Here at Win A Day Casino, we offer a wonderful wide selection of real money video slot games for our players to enjoy. Our many happy players demand a wide selection of game for their amusement, and we are glad to provide a varied casino experience. Here are three more of are exciting instant play casino games.
Chinatown
Chinatown is a gorgeous Asian-inspired game that features up to 21 paylines, which is a whopping 21 chances to score every spin! This is one of our most beautiful slot games because it constructed in the architecture of ancient Chinese pagodas. The 3D construction of this game also houses a special green luck dragon, which will watch over you as you play and rings a gong every time you spin the reels. The soundtrack for "Chinatown" is one-of-a-kind; the music comes straight out of China and has a very soothing Buddha Bar-like atmosphere. Let these whimsical sounds of the east wash over you in this exotic and alluring game. "Chinatown" also has a constantly growing jackpot, which can be yours if you are lucky. The five spinning reels feature such iconic Asian imagery as Buddha, lotus flowers, lovely Chinese vases, fans, noodle bowls with chopsticks, and Yin Yang symbols. May the land of the east grant you luck in this special casino game.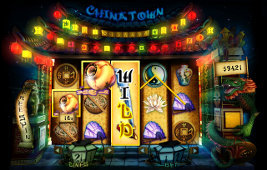 Enchanted Gems
Enchanted Gems is another of our fantasy inspired casino games. This game features a peaceful ambient soundtrack that inspires wonder. This game is designed around gemstones as its theme; in fact, the whole machine interface is made of gemstones right down to your spin button. Just above your spinning stone is an animated magical fairy in a green dress to watch over your game. She serves as your good luck charm in this game. This has game many chances to win big with up to 25 paylines for every spin, and a constantly growing jackpot. On your five spinning reels you will see classic slot games imagery such as bells, lucky 7's, dollar signs, bar symbols, horseshoes, and crowns. Try out this magical game today!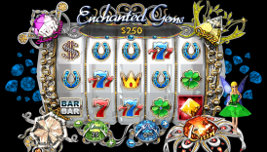 Fair Tycoon
Fair Tycoon is one of our most unique slot games. In this game, you are the owner and manager of an early American theme park who is trying to grow their business. As you play, you aim for certain goals, which will earn you expansions such as new rides for your theme park. This game has up to 17 paylines, which is 17 opportunities to rack up points for every spin. In this game, you have five reels which have various theme park images such as: lollipops, candy, candy-canes, gingerbread men, fair tickets, wild cards, fair posters, trains, wind spindles, and more. Try out this game today and see if you can make it to the top of the fair world!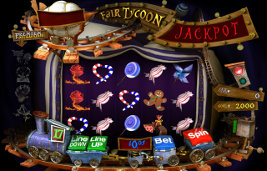 Join us next time for part three of our in-depth look at our full roster of instant play slot games.