Player testimonials
"I truly love this site and the best part is NO DOWNLOAD!! That and the fact that you have the most unique games is what causes me to continue to play. In addition to really enjoying the games, you have wonderful support staff. It's a lot of fun, good job!"
"I have played at many online casinos and I would just like to say that Win A Day is the BEST casino that I have played at. Their games are all one of a kind you won't find them anywhere else. The customer service support is fantastic. If you haven't played at Win A Day I suggest you do."
"Win A Day is the place to play, come one come all. A place of fun and games galore! Great customer service, deposit bonuses and surprises. It's is the best casino and definitely worth your time. Thanks Win A Day for all you do, I will always support you."
"I started at Win A Day's sister site, Slotland, over 10 years ago, and I did not think that I would find an online casino that I liked better...that was until I played a couple of times at Win A Day! Playing here is so much fun, I have not been to my favorite land casino in over a year! That, is a loyal player!"
Tips for Winning at Video Poker at an Instant Play Casino
Posted on May 7, 2014
Win A Day Casino has offered engaging instant play casino games since 2007. Our video poker titles are popular with both Vegas veterans and those new to the game. When playing poker in a brick and mortar casino, you're usually not just playing against the deck, you're playing against other competitors as well. The benefit of online video poker at our no download casino is that all you have to do is master the game itself and you'll be on your way to racking up some big real money winnings.
Our casino games include both single and multi-hand video poker games. If you've never played video poker before, you'll want to do some research on basic strategies as the game is not quite the same as sitting down at a table in a casino. Here are a few video poker tips to get you started.
1. Not All Video Poker is the Same
Just as table poker has different kinds of games such as five card draw or Texas Hold'Em, Video Poker also has multiple different varieties. Some different types include Jacks or Better and Deuces Wild. Before you go in and start playing any video poker game, you'll want to pay attention to any special rules that apply for that game. Study the payout table and understand that each game most likely has its own unique strategy.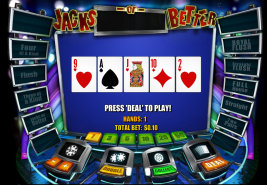 2. Take What the Machine Gives You
If you're playing a version of five card poker at an online casino, always be aware of what your current hand is worth. If it looks likely that you could put a straight together, stick with what the game is giving you. If you try to gamble and go for a flush instead, you could end up losing the money you likely would have otherwise won. Video poker is all about playing the percentages correctly.
3. Don't Forget to Take a Break and Come Back Later
One benefit of video poker is that you can be dealt many more hands per hour than you would in a traditional table game. It is called an instant play casino, after all. While this might seem like fun at first, you could quickly add up the number of hands being dealt and the amount of money being wagered before you really know what's hit you. Always gamble in moderation and take a break if you need to recharge. You don't want to make a snap decision that costs you money because you were too tired to really think it through.
4. Check Out Our Exciting Video Poker Games at Win A Day Casino
We've been in business since 2007, offer quick payouts and great customer service. Win A Day Casino offers engaging video poker games like Jacks or Better and Deuces Wild that you can play from the comfort of your home. Read our tips for playing video poker successfully and bring some excitement and extra money into your life today!